Alex Camelio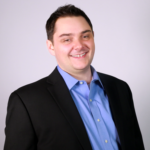 Available for:
Local On-Site Training
Webinars
Events & Conventions
Keynote
Content Development
Consulting
And More!
Topics Include:
Digital Marketing
Mobile & Paperless
Google & the Cloud
Websites & SEO
Cyber Security
As the CEO for Agent Inner Circle, a real estate agent community with over 50,000 members, Alex Camelio focuses on both the growth of the community as well as the products owned and managed by AIC. Prior to selling his company to Lone Wolf Real Estate Technologies, Alex was the Co-Founder and President at Barcode Realty.
Within the real estate community, he has been recognized internationally as an expert in technology, marketing, and entrepreneurship and has presented for various national organizations.
National Association of REALTORS
NAR Tech Edge Series
NAR Convention Educator Symposium
NAR Convention RE Bar Camp
State Associations
New York Association of REALTORS®, Inc.
North Carolina Association of REALTORS®, Inc.
Pennsylvania Association of REALTORS®, Inc.
Vermont Association of REALTORS®, Inc.
Professional Organizations
Women's Council of REALTORS
Local Associations
Mobile Marketing for the Real Estate Industry
The Development and Marketing of a Mobile Presence
The Multi-Screen Society
Digital Security for Your Office (2 Hour CE approved for VT)
Going Paperless
Optimizing Your Website with Google Analytics
The New SEO – Is Google Finding You?
Google 101: Leveraging the Google Environment
Google 201: It All Starts with Google+?
Google 202: Maximizing Gmail and Google Calendars
Google 203: Communicating with Google Voice and Google Hangouts
Google 204: What is Google Apps for Business?
Going Mobile for Associations
Digital Security for Associations
---
[contact-form-7 id="77512″]